Regular price
$44.90
Sale price
$37.95
Unit price
per
Sale
Sold out



Flavor:
Made for Dogs
For ages: Adult to senior
Save 15% on the best nutrition to support your dog's shiny coat and soft skin.
Ideal for dogs at all stages. Especially beneficial for dogs with excessive shedding issues, skin conditions, and allergies. Great for giving your dog that extra boost for healthy skin and a shiny coat.
Dermix: Liquid. 32 fl oz _ up to 189 servings.
Celavin: Liquid. 200ml _ 6.8 Fl OZ
MORE INFO
Breaking Down the Benefits of Dog Skin and Coat Supplements
Essential fatty acids, or EFA, are the superhero of dog skin and coat nutrition. They come in several different forms, known as ALA, GLA, EFA, DHA, and EPA, and have a number of positive actions by addressing inflammation in the body. The top EFA for dogs comes from borage seed oil, lecithin, and fish oils.
These "omegas" have been widely studied for their benefits against inflammatory skin conditions which can be caused by flea bites, dermatitis, and atopic dermatitis. Given daily, significant improvement to canine skin can be seen. Some dogs respond to an increase in EFA within a couple of weeks, however it takes most dogs about 6 weeks to improve skin disorders from increased EFA intake.
Zinc
To more effectively metabolize EFA, our dogs need zinc. Because of its inflammatory and immune support attributes, studies have found significant improvements in the luster of dog hair and fur. The synergistic effects of zinc with EFA also brought enhanced results with promoting soft, healthy skin.
Biotin and B Vitamins
Biotin and their companion B vitamins help advance the quality of canine skin and coat condition through a vast array of beneficial actions in the body. These supportive vitamins have been directly correlated with better hair growth, improved hair luster, and reduced skin dryness when given as a daily supplement. https://pubmed.ncbi.nlm.nih.gov/2602924/ on biotin for dogs showed improvement with dull coat, brittle hair, excessive shedding, dry skin, pruritus, adn dermatitis after 5 weeks.
Amino Acids
Hair, fur, and skin are basically made up of proteins. Some of the essential building blocks of protein are likely missing from your dog's basic kibble, even if you're making his dog food by scratch. So, rounding out your dog's protein intake with amino acids is a good way to boost hair and coat quality.
Best Sources of Dog Skin and Coat Nutrients Because your dog's appearance is so important, there is a wide variety of products promising to support your dog's skin and coat. However, if you're interested in an all-in-one food based supplement that provides all these nutrients, look no further than Dermix.
Dermix contains naturally occuring EFA, B vitamins, Zinc, Biotin, Amino Acids, and an array of supportive nutrients that get the job done! Simply mix the concentrated liquid into your dog's food to deliver all the benefits for skin and coat.
And, for an even bigger skin and coat boost, add Celavin, Omega-3 fish oil to his daily dish. This ultra-pure fish oil is made from small species fish and triple distilled in Norway. It's infinitely more pure than wild salmon oils and packs a huge level of omega-3 efa.
FACTS
DERMIX
Standard Serving Size: 1 ounce
Essential Fatty Acids (Lecithin, Borage Seed Oil)  160IU*
Inositol  30mg
Vitamin A (Palmitate)   250IU
Vitamin B1 (Thiamine HCI)  3mg
Vitamin B2 (Riboflavin) 3mg
Vitamin B3 (Niacin)   3mg
Vitamin B5 (Pantothenic Acid)   3mg
Vitamin B6 (Pyridoxine HCI)  4mg
Vitamin B12 (Cyanocobalamin) 12mcg
Biotin   120mcg
Zinc (Gluconate)   2.5mg
Selenium (Amino Acid Chelate)  11mcg
Copper (Gluconate)   10mcg
Vitamin E (a-Alpha Tocopherol Acetate) 200IU
Choline (Bitartrate)   10mg
Citrus Bioflavonoids   50mg*
Glucosamine Sulfate  250mg*
L-Cysteine HCI (amino acid) 90mg*
L-Ornithine HCI (amino acid)   90mg*
Proprietary Trace Minerals  70mg
*percent daily values not established
OTHER INGREDIENTS:
Purified Water, Apple Cider Vinegar, Raw Liver Concentrate (porcine), Natural Color, Natural Bacon Flavor, Vegetable Gum, Sodium Benzoate, Potassium Sorbate.
Celavin
Standard Serving Size: 1 tsp
Calories (energy)  40
       Calories from Fat   40
Total Fat   4g
       Saturated Fat  1mg
       Polyunsaturated Fat  2g
       Monounsaturated Fat   1g
       Trans Fat   0g
Cholesterol  15mg
Omega-3 Fatty Acids  1,400mg
EPA (Eicosapentaenoic Acid)   740mg
DHA (Docosahexaenoic Acid)   460mg
Other Omega-3 Fatty Acids  200mg
*percent daily values not established
OTHER INGREDIENTS:
Natural Lemon Flavor, Rosemary Extract, Ascorbyl Palmitate, Natural Tocopherols (soy).
Directions

Add to your dog's food according to body weight as directed on the product label.
What to expect

Allow 6 weeks of continuous use to notice improvement to skin and coat.
Share
View full details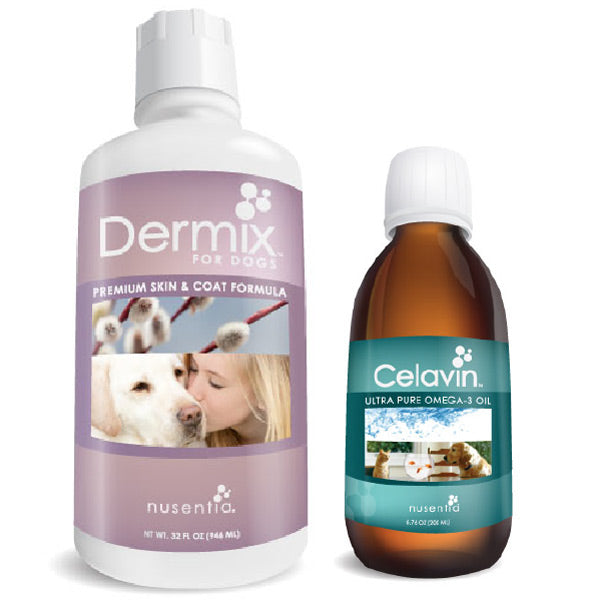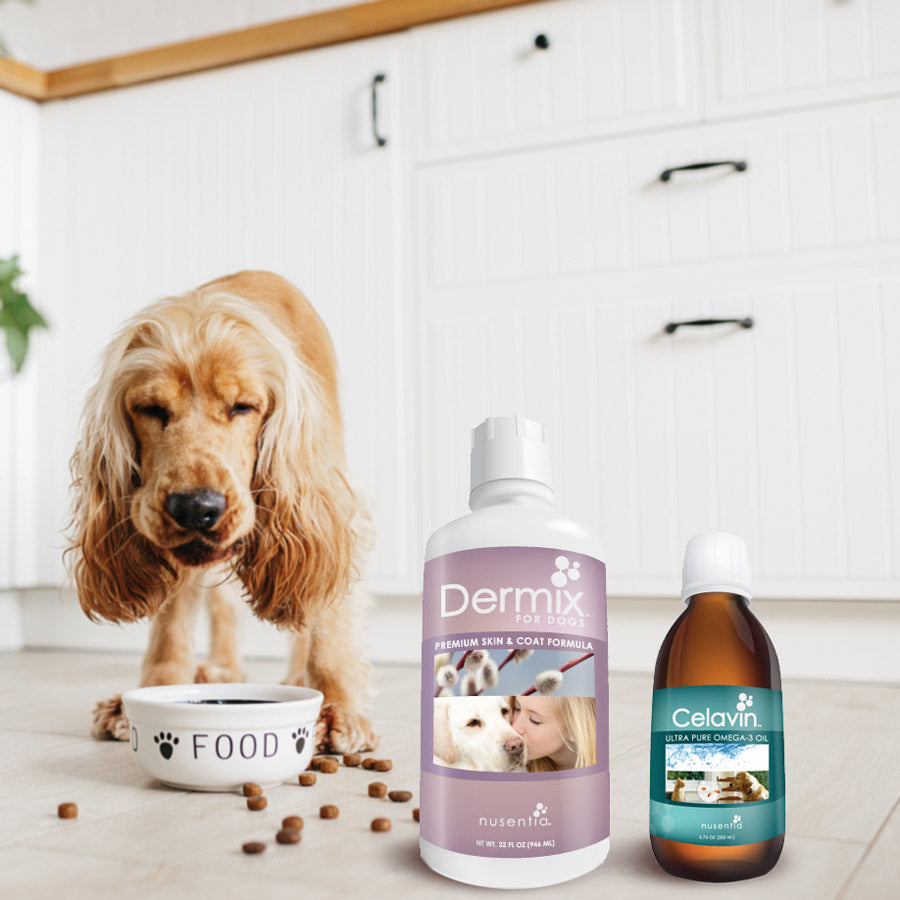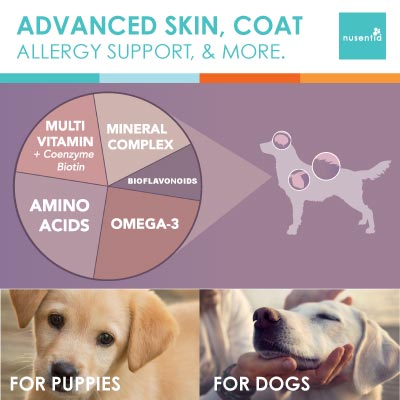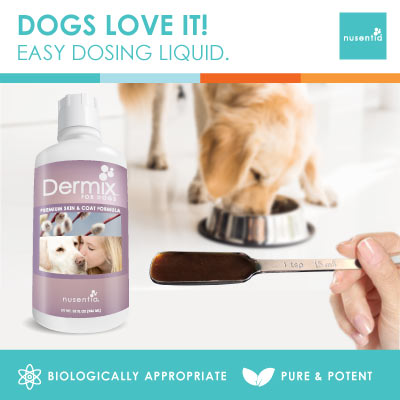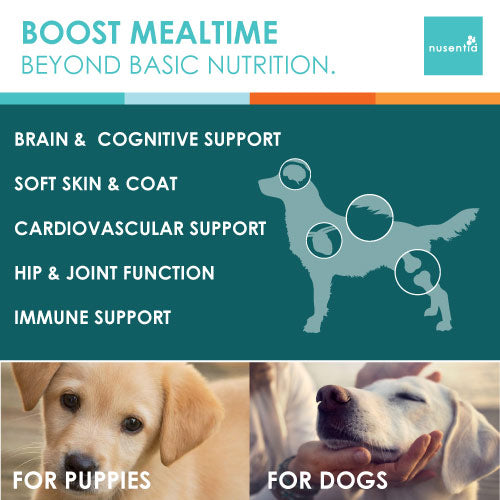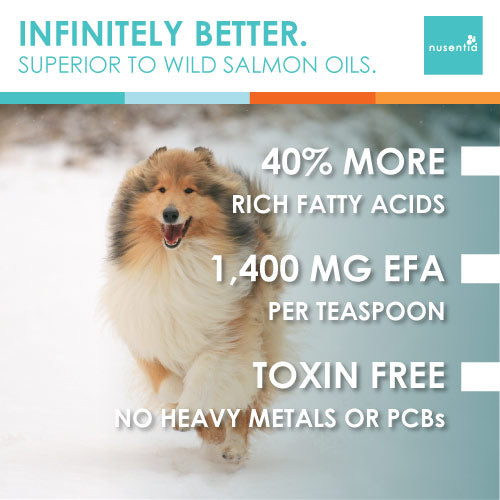 Key Benefits
Joint Support

Essential fatty acids are known to significantly reduce the release of several elements that play a part in inflammation and may promote joint comfort.

Excess Shedding & Dander

May reduce shedding & dander by nourishing skin, providing essential fatty acids, and supporting overall pet health.

Skin & Coat

Rich in Omega fatty acids to aid in maintaining your dog's healthy skin and a shiny coat.

Ask us anything about Dog Skin & Coat Power Pack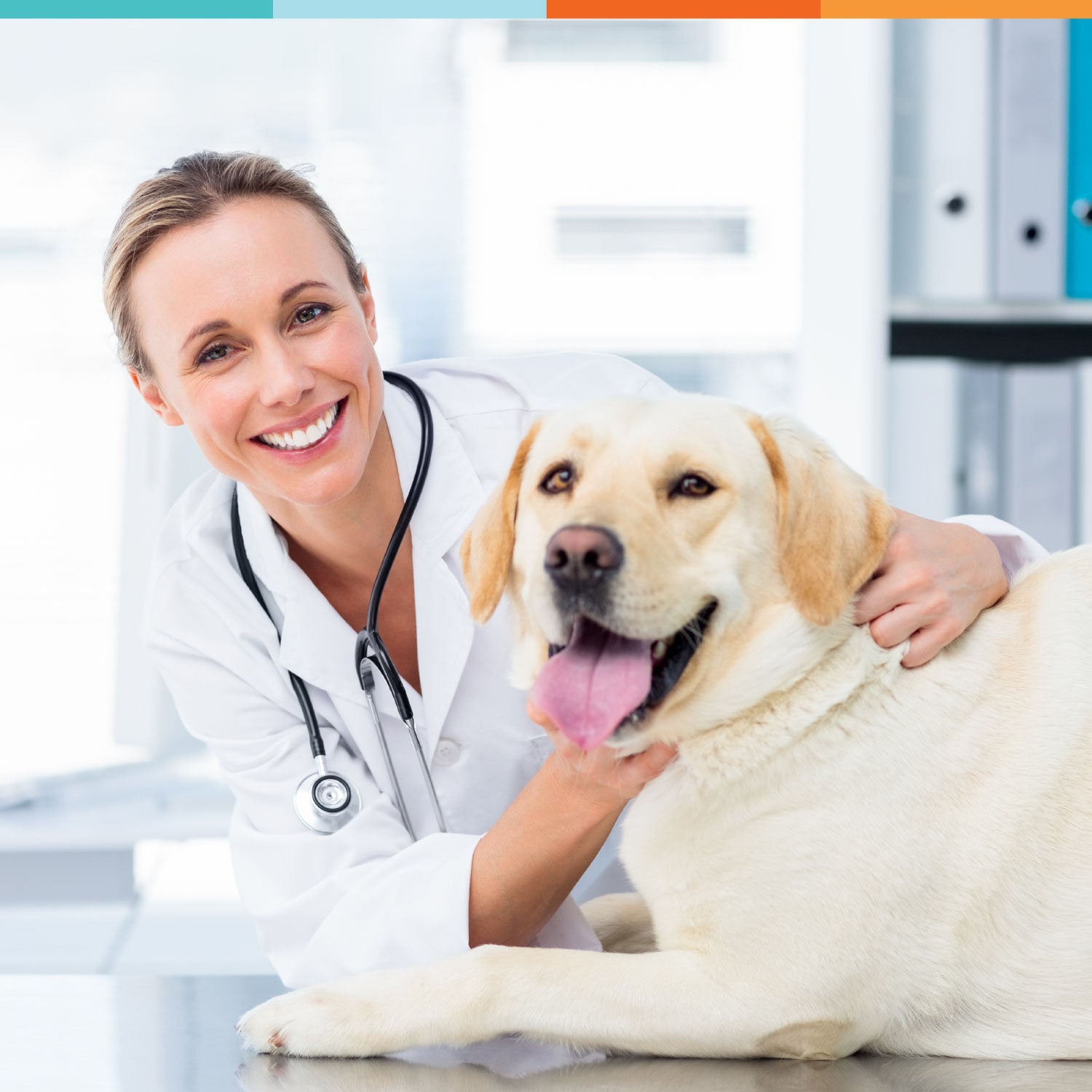 Endorsed by Experts, Loved by Pets
Our products come with the seal of approval from veterinarians, ensuring they meet the highest standards of pet health and nutrition. When professionals recommend it, you know it's the best choice for your furry family member.
The Nusentia® Guarantee
We want your experience to be as worry free as possible, so we offer 60-days to try our products. If for any reason Dog Skin & Coat Power Pack doesn't work out for your pet, simply reach out for a full refund.
Not Happy
This is the second time I have had the wrong items shipped and now I have to go to UPS to ship the items.
Not Happy
This is the second time I have had the wrong items shipped and now I have to go to UPS to ship the items.